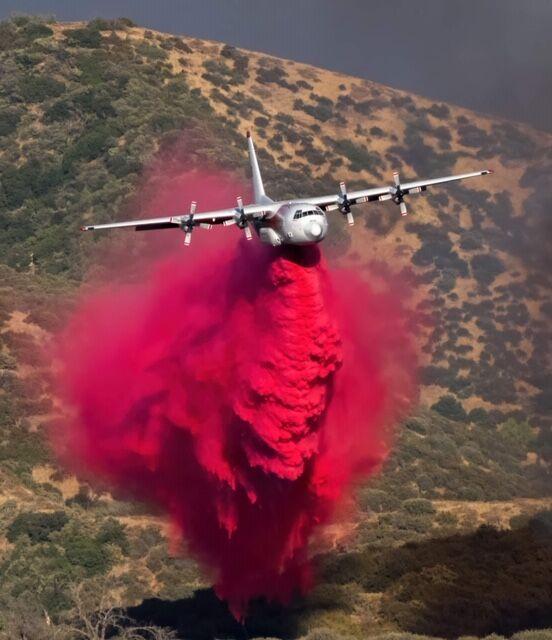 A fire broke out on July 31, at approximately 5 p.m. at Oak Glen Road and Apple Tree Lane, north of Cherry Valley. The flames were visible from Yucaipa and surrounding communities. Wind conditions allowed the flames to quickly spread as mandatory evacuations were given to local residents. 
The unified command included fire fighters from across the state, CAL FIRE Riverside, County fire, U.S.F.S. San Bernardino and Yucaipa Fire. 
The fire doubled overnight, as fire crews continued to fight the flames. As of 6:04 p.m., on Aug. 1,  the fire grew to 4,125 acres and was still at 0% containment.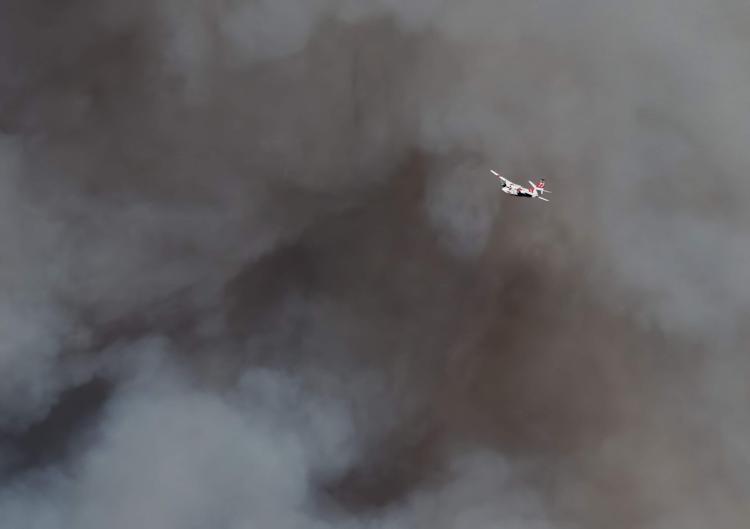 Over 2,500 homes have been evacuated in Cherry Valley, Banning and in Oak Glen.  As of 5:30 p.m., there was a voluntary evacuation order for Forest Falls but it was later downgraded to an "evacuation warning."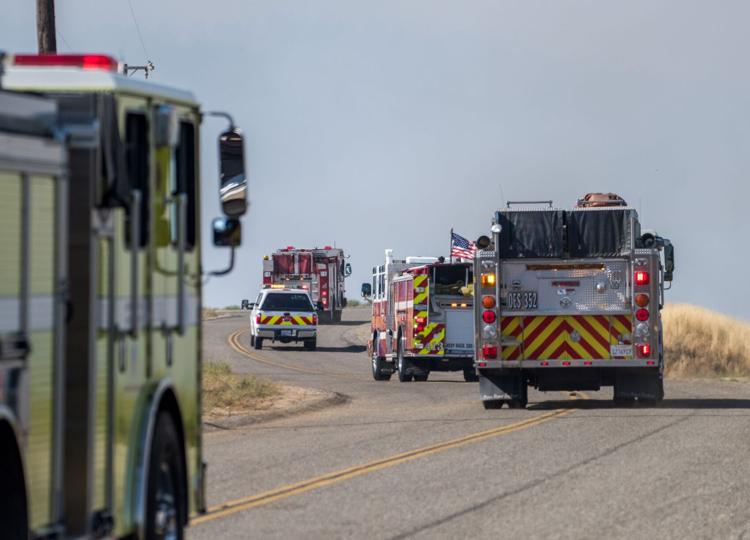 The News Mirror will continue to update the story.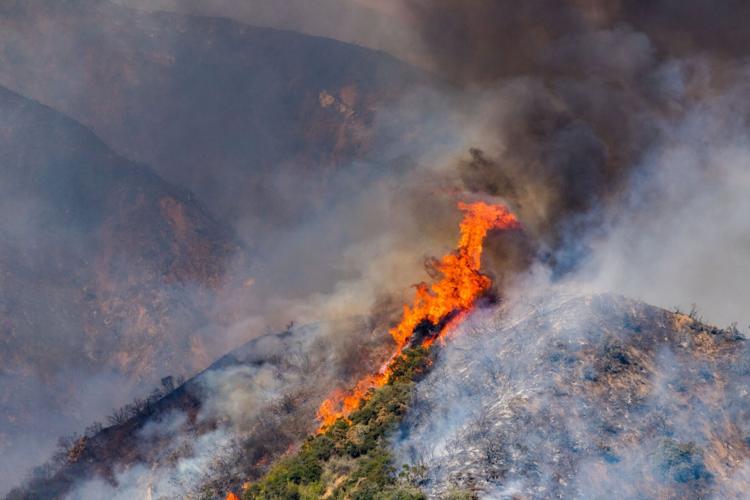 Update: Aug. 2, 8:30 a.m., the fire reached 12,000 acres but is now 12% contained. Only one home has been destroyed in the fire. 
Update: Aug. 2, noon, 20,516 acres have burned. Fire activities remain high today. According to USFS, Much of the northern and eastern edge of the fire is in very steep, rugged hillsides which is not accessible to firefighting vehicles.  Firefighters are using all resources available including helicopters, fixed wing air tankers, ground equipment and hand-crews.  
EVACUATIONS & CLOSURES
Several evacuation orders have been ordered. 
For Riverside County Residents, please visit https://www.rivcoready.org/ActiveEvents for an interactive map that will allow you to enter your address to see if you are in an evacuation area.  You can also follow https://twitter.com/RivCoReady to receive updated information as evacuations change.
For San Bernardino County Residents, please follow https://twitter.com/sbcountysheriff The community of Oak Glen is under an Evacuation Order. The orders for Forest Falls have been downgraded to an evacuation warning only.
The San Gorgonio Wilderness has been Closed to All Use.  Effective Aug. 2, 2020 an Emergency Forest Closure Order is in effect which prohibits all entry into the San Gorgonio Wilderness Area.  This order also includes the Pacific Crest Hiking Trail between the Forest Boundary and Forest Road 1N01.
All Forest Service recreation areas in the Forest Falls area are closed due to the San Bernardino Sheriff's Department's Voluntary Evacuation Order.
Update: Aug. 2, 6:52 p.m., 20,516 acres have burned. For those interested in a live feed, visit https://www.facebook.com/watch/?v=221589039100785
Update:  Aug. 2, 7:30 p.m.
The fire is steady at 20,516 acres but with 5% containment.
Update: Aug. 3, Riverside County Fire Department reported in a press release the cause of the Apple Fire. In the release, it said, "the Apple Fire was the result of a vehicle malfunction specifically, a diesel-fueled vehicle emitting burning carbon from the exhaust system. The determination is reinforced by multiple independent witnesses, as well as supporting physical evidence. CAL FIRE officers are seeking information from anyone."
Those with with information are urged to call 800-633-2836.
Update: Aug. 3, 4 p.m., Former CAL FIRE Captain Mark Miller of Yucaipa provided a chilling account of what happened in Oak Glen on Aug. 1.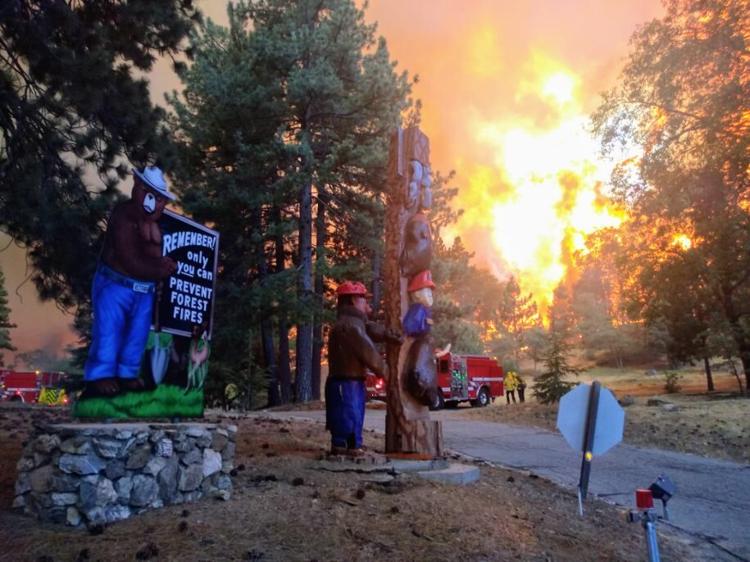 "On Aug. 1, Oak Glen fire camp was slammed by a fire storm, 150 feet flame lengths from the Apple Fire," said Miller. "The camp was totally enveloped by fire being in the path of the fire. Having worked at the camp for 14 years as a Fire Crew Captain, we devoted a lot of time to making Oak Glen camp fire safe. With the extreme volume of fire hitting the camp, all at once, CAL FIRE personnel had their hands full. No structures were lost ... CAL FIRE proudly saved the camp."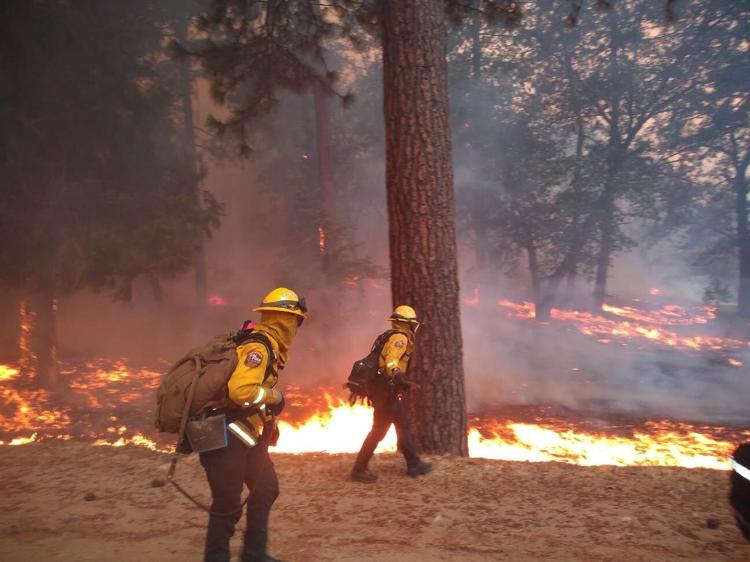 Oak Glen Camp has been in existence since 1948 and is the largest fire conservation camp in California.