With the Fourth of July fast approaching, Calimesa Mayor Bill Davis asked the community to be careful and use common sense when it comes to celebrating with fireworks at Monday's council meeting.
"There is going to be a lot of people out there looking for fireworks and everything else," Davis said, during councilmember comments at the June 21 meeting. "People have to use common sense on what they are doing."
Fireworks are illegal in Riverside County and not permitted in unincorporated areas of San Bernardino County. However, that doesn't seem to stop some people from using them, even though California is experiencing extremely dry conditions.
"Last year was a runaway train as far as fireworks," Davis said. "I am surprised we did not have fires. We were fortunate."
He reported there were lots of fireworks last year near his home in Calimesa and he was very concerned something terrible was going to happen.
"People stay safe and sane and go to the, I assume there is going to be fireworks shows this year. Be careful. We are primed for a big fire," Davis said. "It's going to be very dangerous and we have the possibility of losing a lot of homes. That's all I've got to say."
After a year without fireworks due to the COVID-19 pandemic, the city of Yucaipa is holding its annual fireworks show at Yucaipa High Stadium. The show begins at 9 p.m. on the Fourth of July.
Mayor Pro Tem Linda Molina encouraged those who see someone using fireworks to report it to police dispatch.
"That will be helping your community," she said.
Fire Department
Calimesa Fire Chief Jock Johnson announced the promotion of firefighter Lauren Olvera to captain.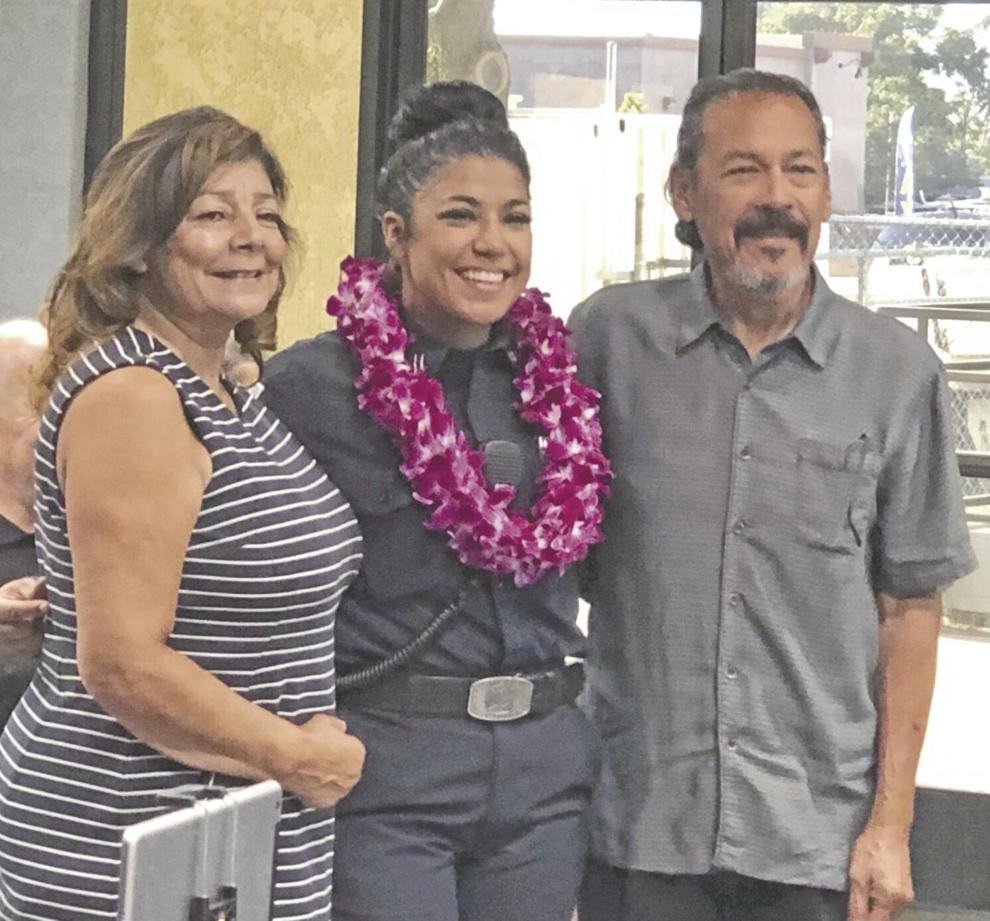 "It is my honor and privilege to present Lauren Olvera as our newly appointed fire captain," Johnson said. "I have known Capt. Olvera for approximately 10 years. I have seen her growth and her perspective on the fire service. It is my honor and privilege to promote her to fire captain."
Olvera's parents attending the council meeting, with her father pinning her with her captain's badge. Her mother gave Olvera a colorful lei to celebrate the promotion.
"To see a young lady such as you, coming up through the process, you have done wonders. Your parents should be very proud," Mayor Davis said to Olvera.
Olvera is the only female firefighter in the Calimesa Fire Department and has worked there since the city took over its operations on Jan. 1, 2018.
Chamber scholarships
Riverside County Supervisor Jeff Hewitt and Calimesa Mayor Davis offered some words of advice for this year's Calimesa Chamber of Commerce scholarship recipients, who attended Monday's council meeting.
"The key thing is," Hewitt said, as he passed out certificates of recognition, "don't ever let anybody talk you out of your dreams. We are living proof that you can accomplish anything that you want. Stay at it, keep doing things and treat people fairly."
Davis told the five young ladies to have confidence in themselves.
"Believe in yourself, don't listen to people, do what you think is right and follow your dreams," he said.
Davis went on to tell the two Yucaipa High graduates and three from Mesa Grande Academy that he was told he wouldn't graduate from high school, let alone college. However, he persevered and has two engineering degrees.
"Best of luck to you guys and work hard because it is not easy," Davis said.
The five scholarship winners are Brielle Bennie, from Mesa Grande and attending Walla Walla University in Washington; Danielle LaBore, from Mesa Grande and attending Pacific Union College in Northern California; Reily Logan, from Mesa Grande and attending Walla Walla University; Brooke Mahosky, from Yucaipa High and attending Cal Baptist University; and Emma Jean Garcia, from Yucaipa High and attending Crafton Hills College and planning to transfer to Utah State.
Xxx xxxxx, a representative for State Sen. Rosilicie Ochoa Bogh, was also on hand to recognize the scholarship recipients.
Reopening guidelines
City Manager Bonnie Johnson announced the COVID-19 guidelines for Calimesa facilities would soon be updated.
"A month from now when we are back here, because we are dark for our first meeting in July, things may look different. There may be different protocols in place," Johnson said. "We are working to do everything properly."
She did not say what the updates would include or when they would be announced, but explained the city was navigating through the details of information.