On Feb. 7, Tam's Burgers celebrated its 10th year in Yucaipa with family and a few of its employees due to the restaurant restrictions of the COVID-19 pandemic. The anniversary was celebrated "by heart" to comply with the restrictions regarding mass gatherings.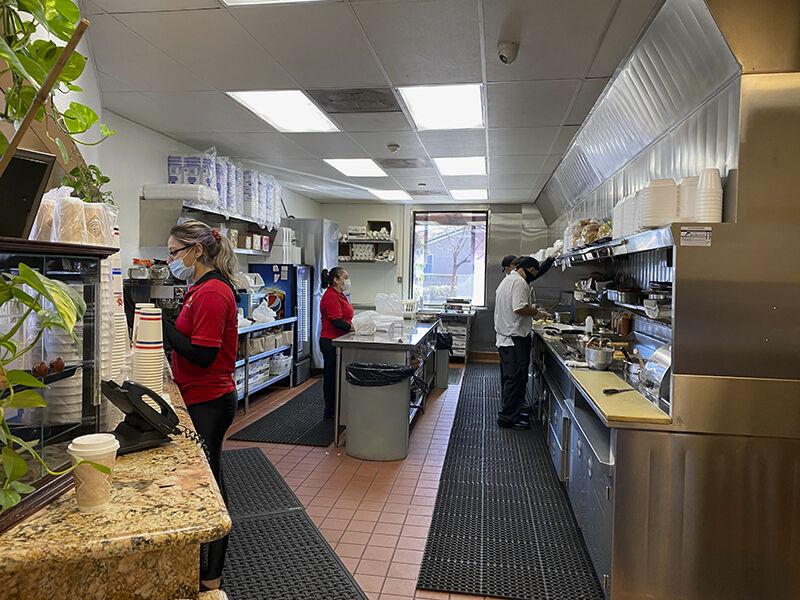 Tam's Burgers was originally started in the greater Los Angeles area in 1971 by Costas Vovos. The business began to grow and more stores were opened. Mark Morcos began working with Vovos and for three years he ran two stores in the Los Angeles area. There he learned the business from the bottom up.
Morcos states the focus of Tam's Burgers is on a clean and safe facility, good quality food, servings with generous portions, great customer service, satisfied customers and building a good relationship with customers in the community and customers in the surrounding area. Morcos didn't realize how many customers he had outside the city until the pandemic hit and he started delivering food to Banning, Beaumont and Redlands.
When Tam's Burgers first opened in February of 2011, it started with a soft opening and was open only at noon and a grand opening was planned two to three weeks later. The grand opening never happened because they became very busy due to mouth-to-mouth advertising from satisfied customers who bragged on its great food and generous portions, which still is being served today. The hours were expanded and Tam's Burgers now serves food, seven days a week. Even through this pandemic, Tam's Burgers has not had to change the hours it is open, nor has it had to shorten the menu.
Tam's Burgers uses nothing but the freshest and highest quality products. The hamburgers are 100% pure beef. The poultry is boneless, skinless chicken breasts. The cheese is not imitation and the dressings, chili, onion rings, zucchini, salsa, etc., are all prepared fresh daily and cooked to order.
The menu has nearly doubled to over 150 items. If it is not on the menu, just ask for it. The staff is happy to make what the customer likes.
Morcos said when the Yucaipa location first opened, he noticed certain diets were not being catered to, so he expanded the menu to include food pleasing to those on a vegan and vegetarian diet. "Sometimes you come as a family and if one of the family members is vegetarian, you cannot watch everyone else eat because there is nothing on the menu for you. Here, everyone can find what they like on the menu because this is a family place and they come to eat together," said Morcos.
Morcos continued to say, "I believe we have the biggest menu in Yucaipa and when I'm asked why is your menu so big, why don't you take some items off, well, it is working. If the customer doesn't like it, then I take it off the menu."
"I buy really good quality products and this is why we succeed, thank you God for 10 years. Our sales are higher each year and Yucaipa provides really good customers and they are really picky, which I like because it is food and it is your health," Morcos said.
Tam's Burgers has an open kitchen so from the start, when you order your food, to the end, when you receive your food, you can see the entire kitchen. There is also a large window located in the kitchen that patrons can see from the outside.
"Everybody is able to see everything the cook is doing. Seven years ago, there was no requirement from the health department to have the cook wear gloves but I told them, please wear gloves as it is cleaner and more safe for our customers," said Morcos. Cleanliness is one of his highest priorities whether it is with his employees, in the kitchen or any other area in the restaurant.
When asked how COVID-19 has affected the business Morcos said, "Thank God I have good experience and if I see something not right, I fix it. To be honest, at the beginning of the pandemic I thought maybe I could slow down, or possibly would have to cut workers but I kept busy. We never closed for one day. We try to be safe wherever we can. I even had sanitizers out for the customer a year before the pandemic hit."
"We are glad to be part of the community and whatever happens in the community we are always there and try to be one of the first to respond if anyone needs any help," said Marcos.
He is a strong proponent of helping his community when they are in need, whether it be catastrophic events like the fires of the last couple years or a fellow citizen who is just down and out and would appreciate a nice hot meal, Tam's Burgers is generous to help when it can. Those who graduated from high school last year, when they brought in proof of graduation and wore cap and gown, they were given a free meal. Morcos said, "God blesses me so in turn, I bless whomever I can, when I can."
He wants the community to know that "Tam's Burgers is here to help the community. I earn your business. We serve good quality food, give good customer service and have good portions at a  good price. I give you good quality and good quantity and you give me your business. Our restaurant is always clean and we are here for our customers anytime. If anybody needs any help as families are struggling right now, if they are starving and need food to just please text me at 1-562-299-8363 as I'm here to help. However I can help, I have no problem, anytime. God put me in this business as I asked God to show me which road to go and I believe God decided for me to be in this business. This is a blessing from God to do this so God is first in my life and I thank Vovos, my partner as he gave me the opportunity to be in this business and I treat him like my father," said Morcos.
"I feel relationships are more important than money. I'm not saying the money isn't important but for me, to be a part of the community I believe is better. I live here in Yucaipa. My kids have been going here to the high school and they are going to the community college here," said Morcos.
Popular dishes, Morcos said include hamburgers, Philly cheese steak, chicken tenders, club sandwich, fried zucchini, Mexican food, French toast, and burritos.
When asked what he likes most about his work Morcos said, "When the dining area is full with everybody happy. When you see you have done something good for a lot of families, forget about the money ... When you keep a customer, you know you are a success. This is a high honor."
Tam's Burgers is located at 34247 Yucaipa Blvd., Ste. A. Call 1-909-790-7791. Hours 6 a.m. to 9 p.m. Sunday through Thursday and 6 a.m. to 10 p.m. Friday and Saturday. Visit tamsburgeryucaipa.com. Delivery is available through Doordash, Grubhub and Postmates.