According to the U.S. Department of Housing and Urban Development (HUD), there are 39,471 homeless American veterans on any given night. With that in mind, three Yucaipa residents started a business, Jumpbanz, made by veterans, with profits going directly back to veterans.
Veterans who receive care at the Loma Linda Veterans Assistance (VA) Hospital have been making Para cord bracelets for years.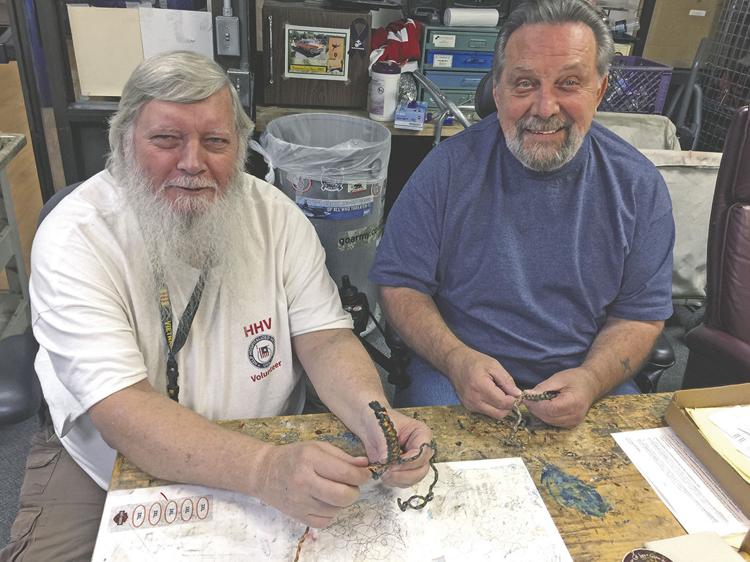 "As a real estate agent, I was talking to Richard Burke about selling his house and he handed me a bracelet made from parachute jump chord," said Don Curl, owner of Noe Valley Estates Realty in Yucaipa. "Richard told me that veterans at the VA had made it and I was really touched by it. I thought to myself 'this is really cool' and that's where Jumpbanz started," said Don Curl.
Curl is a 25-year resident of Yucaipa. In addition to being in charge of the brand, product development and marketing of Jumpbanz, Curl donates 10 percent of his fees from VA loans to Jumpbanz and promoting awareness for veterans in need.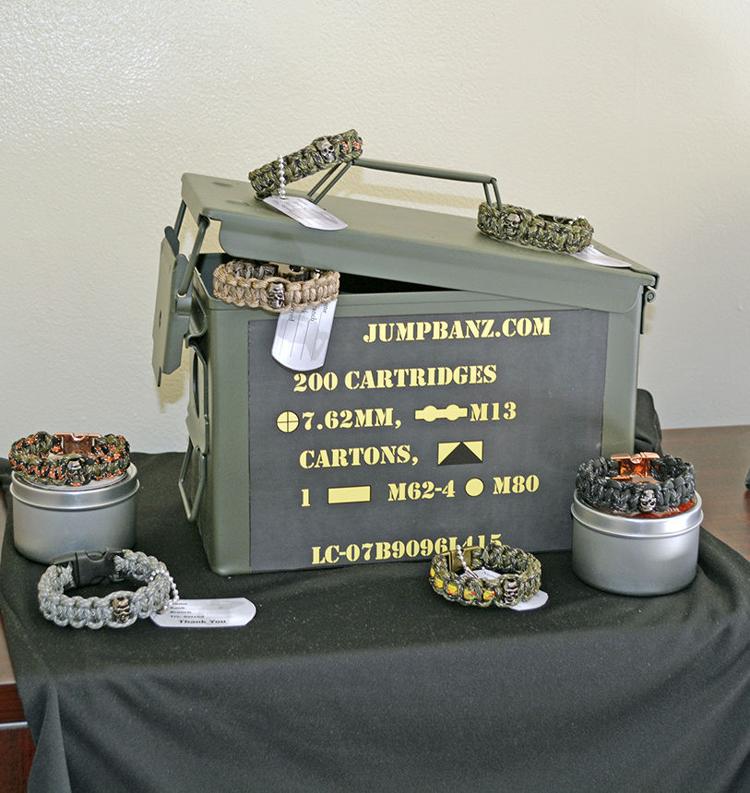 Burke is a 20-year resident of Yucaipa. He served in the Air Force from 1972 to 1977 and was stationed at Nellis Air Force Base in Las Vegas Valley, Nev. Before retiring he worked at the VA in Loma Linda for 20 years in administration. He still volunteers three days a week.
"Guys started making these bracelets years ago. They would play with different colors and started adding micro chords of different colors to them," said Burke. He is in charge of production, building brand awareness and working directly with veterans and veteran organizations. "I want to put Jumpbanz in everyone's hands," said Burke.
The third business partner is Vietnam Veteran Russel Spradley. Spradley served in the Marines from 1965 to 1969 and served in Vietnam from 1966 to 1967. He is a 12-year Yucaipa resident and retired from Delta Airlines. Being a member of the "biker" community, Spradley builds biker awareness and works directly with veterans and veteran organizations.
"My biker and veteran friends all think these bracelets are a great idea and want to help support the cause," said Spradley.
Jumpbanz offers different bracelets for various campaigns of war. The original Jumpbanz come in a parachute tin. It has a green and white camo band with a black plastic buckle. Attached to the bracelet are two (cut-out) dog tags; one with the service information of the veteran who made it and one blank. The cost of the band is $14.95, plus shipping and handling. Once an order is made, the product will be shipped within two to three business days.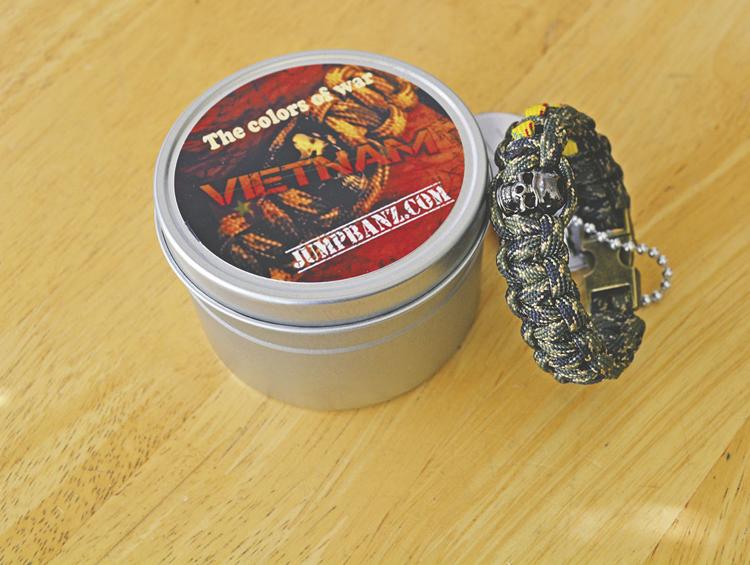 Currently featured on Jumpbanz.com is a Vietnam Jumpbanz that comes in a "Colors of War" tin with a dark green camo band, ribbon in Vietnam War colors and a bronze metal buckle.
The Afghanistan Jumpbanz comes in a "Colors of War" tin with a desert storm camo band and a gunmetal colored buckle. The bands with metal buckles are $19.95 plus shipping and handling.
All bracelets come in two sizes, small at about 7 inches and medium at about 9 inches.
Wanting to reach other demographics as well, veterans are also making Rockbanz that can be found at coolbanz.com. The bands come in a tin and feature a gold metal buckle and a guitar pick attached to them.
All bracelets are made solely by veterans. "Currently we have four vets that make them, but we are looking for more and also other places that they can be made," said Curl. "Also, products can be ordered to fit the needs of our purchasers. We are still in the start up phase and there is so much more to come."
For more information or to purchase a bracelet, visit Jumpbanz.com or Coolbanz.com or call Curl at 253-3357. If you are a veteran who wants to volunteer, call Burke at 235-8831.